Hey everyone, thanks for checking out Salt Tank Report.
I'm David, the guy behind the keyboard. I've been keeping saltwater aquariums for over 15 years and would like to think I have done it all with respect to marine fishkeeping and saltwater reef tanks, but I know there is so much more to explore and learn.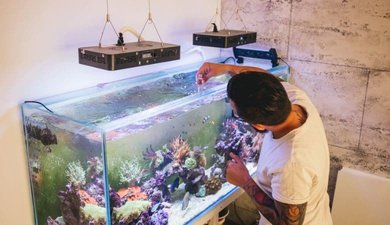 Like you, once you get into the hobby and start learning about how interesting and fun it can be, it's really difficult to shake the habit and it becomes an addiction. Although it's not all fun and games, there are going to be ups, downs, and some frustrations along the way. But it's worth it. What you can accomplish and create in the saltwater aquarium hobby is truly amazing and something to be proud of.
I can honestly say that I have become obsessed with saltwater tanks. I'm always working on and improving my tanks at home, but when I'm not, I'm here writing about saltwater tanks.
During my journey, I learned a lot, made numerous mistakes, and spent way too much money on the hobby. To be successful with saltwater tanks, you need to educate yourself and know what to expect. This is what I will share with you here on this site.
As you read through the information, you will notice another writer as well. Although I will write a majority of the articles, I am also working with an experienced writer who has a huge passion for the saltwater hobby. Her name is Sunnie. You can check out the information written by Sunnie by clicking her name at the top of each article. I know you will find her information helpful.
My goal is to grow Salt Tank Report into the best resource online helping millions of saltwater hobbyists like you.
So have a look around the site, I know you will find some great information and hopefully, I can help you achieve your goals with keeping saltwater tanks.
If you have any questions, comments or concerns, feel free to email me at reachsalttankreport (at) gmail (dot) com
Cheers,
David.