In this article, I will show you 3 of the best TDS meters for saltwater aquariums.
If you are just getting into saltwater aquariums or have been in the hobby for a while, you most likely have heard about TDS and the need to have a TDS meter.
Total Dissolved Solids or TDS is one of the most important things to test for before adding water to your saltwater tank.
One of the most crucial factors of keeping a reef tank healthy is water quality.
Tap water should never be used for saltwater tanks as it can contain harmful contaminants that are not safe for marine life.
It is recommended that you use a reverse osmosis or RODI filter to keep those contaminants out of your water.
RODI filters are very effective in producing high water quality that is safe and healthy to use in your tank.
TDS is a measurement of your RODI filter effectiveness.
Reverse osmosis with deionization will filter out any total dissolved solids that are in the water.
What are Total Dissolved Solids (TDS) Meters?
TDS meters are used to measure the amount of total dissolved solids (TDS) in the water.
Over time, the filters will lose their effectiveness and the TDS number will begin to increase as the water quality declines. This is when you should change out the filters for new ones.
Many RODI filter systems will come with a TDS meter attached to them so you can easily see the TDS reading at any time.
But if the system does not come with a pre-installed TDS meter, then you will need to buy one.
They are very affordable and an easy to use piece of equipment that all hobbyists should have.
1. HoneForest Aquarium TDS Meter
This advanced digital ppm meter has advanced microprocessor technology. It combines TDS meter with EC meter and a temperature meter all in one.
It is very accurate, reliable, and easy to use. The screen is backlit and includes an auto-lock function.
Features:
ATC – Auto temperature compensation
Backlit display – If TDS 40ppm or less, the screen will be green. If 40ppm or more, the screen will be red.
Auto function lock
Pre-calibrated and ready to use
2-minute auto-off feature
Includes carrying case
Measuring range 0 – 9990 TDS
Note: Does not include PH test
Check today's price of the HoneForest TDS meter on Amazon here.
2. Vivosun PH and TDS Meter Combo
This combo meter will allow you to test for both PH and TDS. It is ultra-accurate, reliable, and easy to use.
This is an ergonomically designed 3 in 1 testing tool as it also includes a separate temperature meter. Truly a simple tool to test for high water quality.
Features:
Pre-calibrated by the manufacturer
Auto-lock function
4 Display modes
9-minute auto shut off feature
Measuring range 0 – 9990 TDS
Measuring range 0 – 14 PH
Includes protective case
Check today's price of the Vivosun PH and TDS meter combo on Amazon here.
3. HM Digital Dual Inline TDS Meter – DM1
If you currently own a RODI filter system without a built-in TDS meter, I recommend the HM Digital inline meter and add it to your existing system.
These provide a very easy and convenient way to see the TDS level for monitoring your system's efficiency.
It will help you decide when the filters need to be replaced.
They are easy to install onto your current RODI system and with the flick of a switch, you can accurately see the TDS of the tap water entering and exiting the filter.
The meter should read 0 ppm showing that all of the dissolved solids have been removed from the water.
Features:
Microprocessor technology – efficient and accurate
Reads TDS for both water in and water out of the filter
10-minute auto-off feature
Measures from 0 – 999 ppm with a resolution of 1 ppm
Pre-calibrated from manufacturer
Note: Does not include PH meter
Check today's price of the HM digital dual inline TDS meter at Marine Depot here.
What is an acceptable TDS level for reef tanks?
The water that is used for your reef tank should have a TDS value of 0. Or as close to 0 as possible.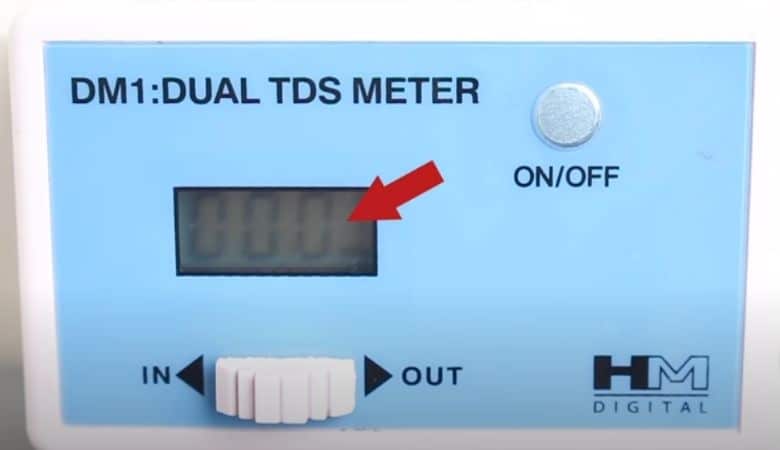 Whenever the TDS reading is above zero, it is time to change out the filters.
Some people will wait until the TDS reading from the filter is around 5 ppm. I don't recommend waiting that long as this can cause problems in your tank including unwanted algae growth.
What does your TDS Meter's result mean?
As mentioned above, when using a TDS meter with your RODI filter system, 0 ppm is the best result possible.
Any reading above 0 means that the meter is detecting solids in your water.
Any non-ionic particles can not be read by the meter and do not contribute to the reading. Inline TDS meters are used to measure the purity of water before it enters the filter and after it passes through various filter stages.
As water moves through different filter cartridges, any particles are filtered out, and the end result is water with lower conductivity and hopefully a 0 ppm reading.
Related articles
Do you need to use RODI water in a saltwater tank?