In this article, I will review some of the best auto top off systems for saltwater tanks. Something that often gets overlooked in the saltwater hobby, is the fact that water does evaporate and directly affects the salt level or salinity of the water in the tank. The evaporated water has to be replaced or you will notice an increase in salinity. As mentioned in the article 7 Best salt mixes for saltwater tanks, the normal range for salinity is 1.020 SG -1.028 SG. A good number to aim for is 1.026 SG.
Water will naturally evaporate from your tank. The rate of evaporation will vary on many things. Salt does not evaporate from your tank, so as water evaporates, the ratio of water: salt will change.
To offset this, you will need to add water to your tank on a regular basis. I always mention that the key to a successful saltwater tank is maintaining constant water parameters. A rapid change in salinity is not healthy for your tank and can have a direct impact on corals and fish in your tank.
You can manually choose to replace the evaporated water by dumping RODI water into the tank. The problem with manual water replacement is it's difficult to be consistent. It's not a convenient or effective way to replace water that has evaporated. You may forget for a few days, or be away from your tank causing the water to not be replaced. This is where an auto top off system can help.
An advantage of having a quality auto top off (ATO), is that it will replace your tank with fresh water as it evaporates. So once the water in your tank reaches a certain level, the ATO will automatically start and replace the water back to the original position. This is very important in maintaining a constant salinity level which is difficult to do without an ATO.
Pro tip: Never replace evaporated water with mixed saltwater. Use RODI freshwater only.
1. Tunze 3155 Osmolator
Tunze has a long-standing record of providing top quality ATO systems for many years. The Tunze 3155 ATO is a reliable and well-built system that is affordable and easy to use. It is a safe and reliable system as it has 2 sensors. One is an electric eye sensor that monitors water levels, and a float sensor as a backup.
With the Tunze 3155, you can have confidence that the system performs as it should avoiding overflowing tanks and wet floors. Although the Tunze 3155 is affordable, the price tag may be higher than others. But the extra price is well worth it for the peace of mind and worry-free operation.
Features and specs:
Max head height – 7.2 ft
2 sensors
Protection from pump running dry
LED indicator lights
Magnetic holders and multiple brackets
Can be used with Kalkwasser mix
Included controller with display
12V power supply
Strong and reliable pump
Easy to mount and monitor
The Tunze 3155 Osmolator is available on Amazon.
2. Tunze Nano 3152 Osmolator
The Tunze Nano 3152 auto top off is another great Tunze brand ATO. I mentioned in the article Best all in one nano tanks, my Coralife Biocube 32 nano tank which I am using the Tunze 3152.
This ATO is rated for smaller aquariums up to 55-gallon. It has a single sensor and includes a processor-based anti-overfill system that turns the pump off if after five minutes of filling the level has still not been reached. This unit is safe to use and reliable. It's also affordable and a trusted ATO used by many hobbyists.
Features and specs:
For tanks up to 55-gallons
Max head height – 7 ft
Single sensor
Strong magnet holder
For glass thickness up to 10mm
Energy efficient
3-meter hose length
Easy to set up and use
The Tunze Nano 3152 Osmolator is available on Amazon.
3. Smart ATO SATO-120P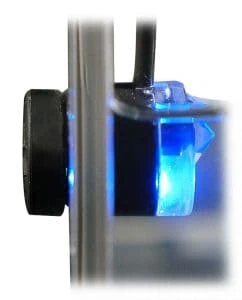 The Smart ATO auto top off system is a unique ATO with a zero contact optical sensor that monitors and automates refilling evaporated water. It's very easy to install and contains no moving parts that can fail.
A nice feature with the Smart ATO is the QST (Quick Security Technology). This provides real-time fail-safe protection against failure. You simply move the outside controller to adjust your sump to the desired water level.
The SATO 120-P micro is very compact and best suited for smaller tanks. In fact, it's the smallest ATO on the market. The Smart ATO is affordable and very reliable. If you have a small pico or nano tank, this will work for you.
Max glass thickness 1/2″
No moving parts
Magnetic mount
Max head height 78.7 inches
Energy efficient
Warning alarm
6.5 ft hose length
The Smart ATO Micro is available at Marine Depot.
4. Ice Cap dual ATO
The Ice Cap dual ATO system has 2 optical sensors to monitor and refill evaporated water. It comes equipped with everything to need to set up. It's compact and easy to install. The dual sensors provide a fail-safe in the event one sensor were to fail. The Ice Cap includes a DC pump and no mechanical parts that have the potential to fail. It is also very affordable and provides a solid and reliable way to replace evaporated water in your tank.
Features and specs:
Dual optical sensors
Max head height – 6 ft
Magnetic mounts
Energy efficient
Fail-safe protection
No moving parts
Max glass thickness – 1/2″
Tubing length – 5.5 ft
LED indicator light
The Ice Cap Dual ATO is available at Marine Depot.
Replacing evaporated water is crucial to maintaining a constant salinity level in your tank. Proper salinity is important for the health of your livestock. using an ATO is a very easy and affordable way to automate the process. No more lugging buckets and spilling water on your floor! Any of the mentioned auto top off systems are a great option and accomplish the same goal. Choose the right one for your tank size and you will be all set!
Thanks for reading!