I mentioned in the article RO/DI water in a saltwater tank, the many problems you could run into when using tap water in your saltwater aquarium. I recommend that you only consider using reverse osmosis water. These RO water systems will remove any harmful pollutants that could enter your tank. You want to have as pure water as possible with a total dissolved solids (TDS) reading of 0.
There are different ways of getting RO/DI water for your aquarium. One of the best ways is to purchase a system and make your own water at home. They are very convenient and easy to use plus they will pay for themselves quickly as you won't need to run around the stores with water jugs saving you time and money.
Before you make the decision to buy an RO/DI system, it's important to look at a few different models to see which one is best for you. They are not all the same but they are reasonably priced and easy to install in your home. In this article, I will show you my recommendations for the best RO/DI system for saltwater tanks.
#1. SpectaPure MaxCap
The SpectaPure MaxCap RO/DI filter is my top choice. This unit is strong, durable, and built to last. It has a 99% rejection thin-film composite Reverse Osmosis Membrane which will ensure all contaminants are removed from the water. After filtration, you will be left with ultra-high purity DI water that is perfect for reef tanks.
Other features include:
5 stage filtration
2 built-in TDS meters
2:1 waste ratio which is tough to beat
Produces 90 Gallons per day
Includes pressure gauge
Manual flush valve preserves the life of the membrane
Automatic in-line shutoff valve which helps save water
No-rust mounting bracket
33% larger capacity DI Cartridges
Long-lasting filter cartridges
3-year warranty
The SpectaPure filter is easy to install and comes with everything you will need to set it up. It is a commonly used system among saltwater hobbyists plus it is easy and affordable to purchase filter replacements. With dual TDS meters, it's easy to tell when the filters need changing. If you are looking for a 5 stage RO/DI filtration system with all the bells and whistles, this unit is a solid choice. It's a trusted system that receives many 5 star reviews. Many customers say that this unit has saved them time and money, and others have said it's the best RO/DI system that they have used.
The SpectPure MaxCap is available on Amazon here.
#2. AquaFX Barracuda
The AquaFX Barracuda RO/DI filter is an affordable 4 stage system that is easy to install and use. It's an efficient unit giving you pure water for your saltwater tank. The unit comes ready to install with everything needed and you will be up and running in a flash.
Other features include:
Produces 100 gallons per day
4 stage filtration
2-micron carbon block filters
Includes pressure gauge
High-efficiency 1-micron sediment filter
Aluminum no rust bracket
Quick connect fittings
Quality long-lasting filters
If you are looking for a great RO/DI filter without the high price tag, the AquaFX Barracuda is worth checking out. You will receive a strong and durable unit ready to set up right out of the box. Replacement filters are easy to purchase and are not expensive. They are long-lasting and does a perfect job of making odorless and tasteless water.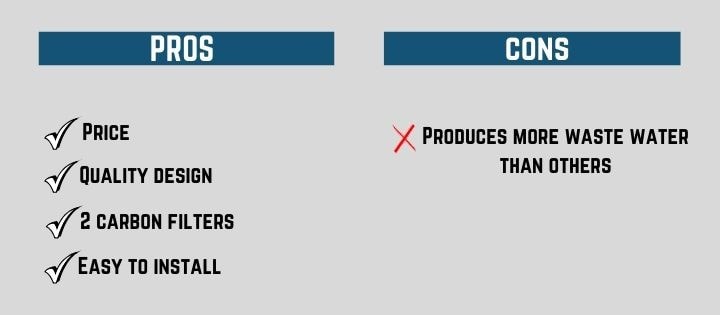 The AquaFX Barracuda is available on Amazon here.
#3. Aquatic Life RO Buddie
The RO Buddie is a great filter system if you are on a budget and don't need the extra gadgets like TDS meters and pressure gauge. The RO Buddie is a 3 stage filter that comes in 50 gallons per day and 100 gallons per day sizes. A 4 stage RODI system is also available.
I am currently using this unit for making water on my nano tank bio cube and I gotta say this thing works great. The Aquatic Life RO Buddie has a small footprint, so you won't need much space and it's easy to install. It comes with everything you need and ready to work right out of the box.
I have 2 negative points about this water filter. One is the fact that you may need a booster pump depending on where you live. But that can be the case for other units as well. Also, the 50 GPD unit seems to be very slow to make the water. 50 GPD for me is a stretch.
Other features include:
50 or 100 gallons per day options
3 stage RO filtration
4 Stage RO/DI filtration available
Replacement filters are affordable and readily available
Easy to install
Small footprint
Affordable but not "cheap"
Long-lasting filters and resin
I recommend the RO Buddie if you are on a budget and looking for a basic system to make pure water. Don't expect it to be a high-end unit like the Spectapure MaxCap, but it still works great and you definitely get your money's worth.
Note: If you live in New York, USA, you will be required to purchase a separate pre-filter stage. This is due to the water in New York having a higher water-sediment level. So this can add to the cost of the system if you are a NY resident.
The Aquatic Life RO Buddie is available on Amazon here.
#4. LiquaGen RO/DI
The LiquaGen RO/DI is a 5 stage filtration system that really is a plug and play unit. The company has pre-built the LiquaGen so all you have to do is take it out of the box and hook it up. Easy and convenient. Not only is this system great for your aquarium, but it is designed for use in labs or anywhere else you need pure water. The company guarantees 0 ppm water.
This 75 gallons per day system includes a high rejection membrane which traps all the undesired impurities. The LiquaGen is durable and well built. It comes with leak-free fittings which are air leak tested giving you peace of mind.
It's tough to find a quality 5 stage RO/DI system at this price. You get great value for the money.
Other features include:
75 gallons per day
5 stage filtration
Durable and long-lasting build
High rejection RO membrane capacity
Pre-built and easy to install
Air-leak tested, leak-free fittings
Long-lasting filters
2-year warranty
Overall the LiquaGen is a great product. It is designed well and is durable. It does not include a TDS meter or pressure gauge so if that is something you need, you have to purchase those separately.
Note: This system is designed for city use. If you live in an area that has more than 350 TDS, then you may want to choose a different RO/DI filter. The manufacturer recommends no more than 350 TDS to use the LiquaGen. This could be a deal-breaker for some people, so check your tap water TDS first before purchasing. If your tap water is less than 350 TDS, you are good to go and will love using this system.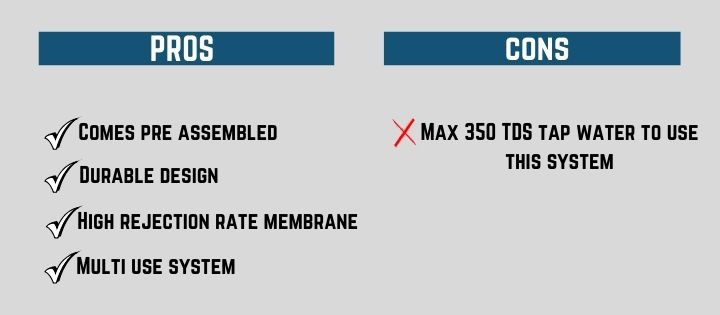 The LiquaGen is available on Amazon here.
When choosing to purchase an RO/DI filtration system, look at all the different features and specs to find the right one for you. If you are on a budget and looking for something basic that does a great job, you should look at the Aquatic Life RO Buddie. If looking for a more advanced system with a higher water yield and less waste, then perhaps the Spectapure MaxCap is your best option. The important thing is to do your research and choose the one that best suits your aquarium needs.