Updated Mar. 17, 2022
Do you want to improve the water quality and overall health of your saltwater tank? You can do that easily by using a protein skimmer. Yes, there are many other methods available to improve water quality. But adding a protein skimmer to your saltwater aquarium is easy. They provide many benefits and are proven to give long term results.
Here are my picks for 7 of the best protein skimmers for saltwater tanks:
Keep reading for more information about each skimmer.
This article on Marine Depot explains the science behind protein skimmers and what makes them so important to have.
The science of bubbles!
Ya, I know that the chart is way to complicated. It's basically saying that half the size of the bubble, doubles the surface area for the same volume of air. Check out the article, it's a great read.
Protein skimmers are somewhat of a hot topic in the saltwater hobby. Many people believe that skimmers are not necessary. In fact, many hobbyists run saltwater tanks successfully without them. If you go on saltwater aquarium forms, you will see many discussions and even arguments between others debating whether or not protein skimmers are necessary.
Well, I believe they are great for all saltwater tanks, and it is one of those pieces of equipment that is worth the money and is highly recommended.
Do you really want this sewer smelling gunk in your tank? My Bubble Magus QQ3 HOB skimmer at work!
What Is A Protein Skimmer? How does it benefit your saltwater tank?
A protein skimmer is a type of mechanical filter that removes organic compounds from your aquarium water. Things like waste, uneaten foods, toxins, and bacteria are all things that a protein skimmer helps remove.

Protein skimmers are essential as they remove organic waste before they have a chance to break down and release nitrogen compounds. They also help reduce nitrate levels which is very important if you have a reef tank where low Nitrate levels must be maintained.
An advantage of using a protein skimmer is that it helps keep your water free of toxins and is a huge support to your filter system in keeping the tank clean.
They also help increase oxygen levels and overall water quality.
Before choosing a protein skimmer, you will need to decide what type you need. Are you looking for a hang on tank style or an in-sump skimmer? Both can be very effective. Of course, if you don't have a sump tank running, then you won't want an in-sump skimmer.
There is also an option to use an in-tank skimmer, which is great if you don't either have a sump or space behind the tank to add a hang-on style.
Also, keep in mind that you will need to choose a proper size skimmer that is best suited for your tank. It's best to choose a skimmer that is rated slightly higher than your tank size.
For example, if your tank is a 75 gallon, then you might want to choose a skimmer that is rated for up to 100 gallons.
Before I show you my picks for the best protein skimmers, I want to mention the cost. Depending on your budget, there are many options available to you.
While some skimmers can be very expensive, you can still get a great skimmer on a budget. The ones I will show you here, are the most commonly used and affordable options for most hobbyists.
I don't recommend buying the cheapest skimmer either, as you will be disappointed by its performance and they are not worth getting.

Types Of Protein Skimmers
The most commonly used types of skimmers today are:
Hang On Back (HOB) Style
In Sump Style
Other types include:
In-Tank Style
External Style
In this article, we will cover the 2 most commonly used types of protein skimmers. The Hang on back (HOB) and In sump styles.
Hang On Tank Protein Skimmers
HOB or hang on back protein skimmers as the name states are designed to hang off the back of your tank using the tank's trim. The manufacturer of the skimmer will provide you with the clip, bracket, and anything else needed to fit it onto your tank. These skimmers are very effective, easy to use, and convenient. But a downfall of them is they require space behind your tank and can be an eyesore depending on the type you choose.
The AquaMaxx HOB 1.5 skimmer is designed to be efficient and powerful. This model is an upgrade from the AquaMaxx HOB 1. It is more powerful and includes a larger bubble diffuser and reactor chamber.
The AquaMaxx is known for its reliability and is easy to set up and maintain. They are built with a cell-cast acrylic construction and are suitable for tanks up to 90 gallons with a light bioload.
If you have a tank with a heavy bioload, I recommend a maximum tank size of 60-75 gallons.
Combine that with an efficient and upgraded Shark pump and you have yourself a skimmer that is powerful and does a fantastic job. Some hang on tank protein skimmers can be bulky and an eyesore, but the AquaMaxx is just the opposite. Its slim design is light, easy to fit in reduced spaces, and looks good.
RUIYUXIN USB AquaMaxx HOB-1.5 Hang-On-Back Protein Skimmer
AquaMaxx HOB-1.5 protein skimmers is easy to setup and maintain. Just move the collection cup up or down to adjust the foam level to wet or dry.
Efficient, durable and reliable, Simple to set up and operate, Cell-cast acrylic construction
Dimension : L 7.5 x W 3.5 x H 17 Inch, Fits aquarium rims up to 3/4" thick, Requires approximately 4" of clearance to remove collection cup, Filtration Rating: up to 90 Gallons (light bioload) or 60 Gallons (heavy bioload)
AquaMaxx HOB 1.5 specs:
Dimensions: L 7.5 x W 3.5 x H 17 Inch
Tank Size: Up to 90 Gallons with rim size up to 3/4″
Pump: Sicce Shark 1.0
Pump Power Consumption: 11 watt
Clearance behind tank: 4″ to remove collection cup
Minimum tank height: 10-7/8″
Outlet size: 3/4 Inch
The Reef Octopus BH 1000 is a classic skimmer that simply works. It is a favorite choice for many saltwater hobbyists over the years and continues to be today.
It has a unique design where the pump is mounted externally which allows for more space behind your tank and less heat to water trade-off. Constructed with a high-quality acrylic, the BH 1000 is designed to last and is very reliable.
The highly efficient pump pinwheel pump produces a perfect mix of water to air allowing for huge waste removal keeping your tank healthy!
Reef Octopus BH 1000 Specs:
Dimensions: L 8.0 x W 3.5 x H 17 Inch
Tank Size: Up to 100 Gallons with rim size up to 1.125″
Pump: Aquatrance 1000
Pump Power Consumption: 9 watt
Clearance behind tank: 4″ to remove collection cup
Pinwheel Pump Air/Water Draw: 420L/350L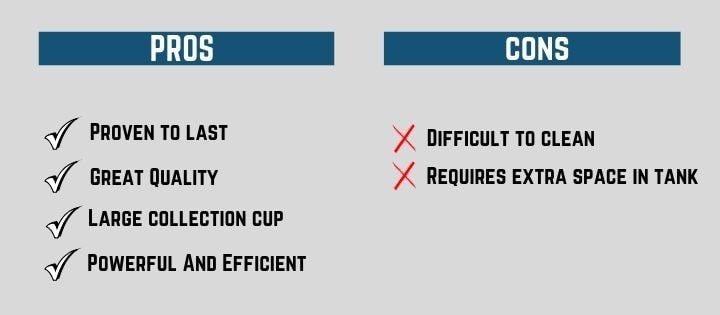 The Eshopps PSK 75 H skimmer is great if you are on a budget but still want a quality skimmer that does the job. It has a simple design and incorporates a near-silent Sicce pump and needle wheel impeller. Using a strong and durable acrylic, the PSK 75 is built for long-lasting use.
Another great quality of this skimmer is that it's easy to take apart and clean. The collection cup removes easily and is easy to access and adjust. Use the adjustment knob to fine-tune the water level in the chamber which allows for optimal performance.
Eshopps PSK 75 H Specs:
Dimensions: L 9.0 x W 4.0 x H 19 Inch
Tank Size: Up to 75 Gallons  Max Trim Size 1.5″
Pump: Sicce SE-200
Max Flow: 357 GPH
Pump Power Consumption: 15 watt
Clearance behind tank: 4-5″ to remove collection cup
The Bubble Magus QQ1 protein skimmer is great for smaller tanks. Up to 25-gallon tank size with trims of 1/2″ is suitable. If you are looking for something that is affordable, efficient, and looks good, the QQ1 is for you. Its small design is perfect if you don't have a lot of space.
It includes a low power operating pump, which reduces heat put into the water, silent air intake which is great for reducing noise, and an intake guard to prevent fish and other items being sucked into the skimmer.
Bubble Magus skimmers are designed for value and efficiency and the QQ1 is no exception. You can expect this compact little skimmer to perform great. All the QQ line skimmers such as the QQ3 mentioned above in my current tank, are awesome performers. It's also stylish and will look good on the back of your tank. You won't be disappointed with the QQ1!

Bubble Magus QQ1 Specs:
Dimensions: L 7.5 x W 4.8 x H 13 Inch
Tank Size: Up to 25 Gallons  Max Trim Size 0.5″
Pump: Rock SP 600
Pump Power Consumption: 8.5 watt
Clearance behind tank: 3-3.5″ to remove collection cup
In Sump Protein Skimmers
In sump protein skimmers are meant to be used in saltwater aquariums using a sump tank. These are meant to sit inside the sump skimmer chamber at a certain water level depending on the skimmer you are using.
Sump chambers can be different sizes so it's important to not only purchase a skimmer that is sized correctly for your tank but sized to fit your sump as well.
There are many benefits to having an in-sump protein skimmer. One being that it will be hidden within your aquarium stand so you won't see cords and equipment hanging off the back of your tank. Some larger tanks will require a very large skimmer which hanging off the back of your tank is not possible or ideal.
Another advantage is in the event of a skimmer cup overflowing, it will simply flow back into your sump tank and not all over your floor which is possible with a HOB skimmer. These are just a couple of advantages to an in-sump protein skimmer. If you have the option of using a sump system on your aquarium, I highly recommend you do so and incorporate an in-sump skimmer.
The Bubble Magus Curve 5 protein skimmer has been a popular choice for many hobbyists. I have used this skimmer with success for many years. Bubble Magus produces practical and efficient skimmers that work well and perform great. The parts of the skimmer are highly durable and will last a long time.
Although it's not the most compact skimmer in the world, it will fit your sump nicely. If you have a medium-sized tank up to 140 gallons, this skimmer will perform well for you. It incorporates a needle wheel design that produces very fine micro bubbles, therefore, increasing its performance.
The curved body style allows the foam to easily rise to the collection cup for removal.
Other features include silent air intake, accurate height control,  drain cup, and stylish design. The Curve 5 is very affordable and provides excellent quality for the cost.
Bubble Magus Curve 5 Specs:
Dimensions: L 7.28 x W 7.08 x H 18.5 Inch
Tank Size: Up to 140 Gallons
Pump: Rock SP 1000
Pump Power Consumption: 8 watt
Air Intake: 320 L/H
The Simplicity 120 DC skimmer is another great skimmer even if you are on a budget. They are designed to be reliable, efficient, and provide great value. The hybrid cone design allows for more contact time which is essential for performance.
Another great feature is the custom control over the amount of air entering the chamber. You can fine-tune it for optimal performance using the adjustable air intake dial. I love the modern design and see-through high-quality cast acrylic. Not to mention the DC adjustable pump which you can control using the included controller.
The Simplicity 120 DC skimmer is very easy to perform maintenance on and clean. It incorporates a thumbscrew assembly which makes it easy to dissemble. The large collection cup and built-in drain is also a bonus.
I found this skimmer to be very quiet. Almost silent. The Simplicity skimmers come in many sizes including 120, 240, 320, 540, and 800 models. I tested the 120 DC model for over a year and was very impressed!
Simplicity 120 DC Specs:
Dimensions: L 6.7 x W 6.3 x H 18.7 Inch
Tank Size: Up to 120 Gallons
Pump: 120 DC
Pump Power Consumption: 6-12 watt
Air Intake: 120-360 L/H
The Reef Octopus 110 INT SS is a reliable skimmer that fits into smaller sump skimmer sections. The Reef Octopus brand has been around for some time and is known for producing great skimmers. The 110 INT SS is a perfect example. It is good for aquariums up to 100 gallons under light bioloads. This skimmer has a slim design and is ideal for sumps that are limited in space.
It also offers a new Aquatrance pinwheel skimmer pump that produces an ideal mix of water and air for optimum waste removal. The 110 INT SS is encased in a solid acrylic body, can be easily disassembled for maintenance, and does not require a feed pump as it draws water directly from the sump.
Features include an easy maintenance design, solid handcrafted acrylic, superior performance from Reef Octopus's own Aquatrance designed pump. Specifically designed for protein skimmers.
Reef Octopus 110 INT SS Specs:
Dimensions:  L 7.8 X W 6 X H 19 inch
Tank Size: Up to 100 Gallons
Pump: Aquatrance
Pump Power Consumption: 9 watt
Air Intake: 454 L/H
Video showing the setup of the Reef Octopus 110 INT SS
Summary
As you can see, choosing a protein skimmer for your tank involves looking at all the variables of each one. I always recommend that you choose a skimmer that is rated for your tank size or slightly oversized. You will notice that most manufacturers will specify the maximum tank size that the skimmer is rated for. Keep in mind this rating is based on a light bioload.
So depending on the livestock you have, the ratings can vary. Even though a skimmer may be rated for 150 gallons, it may be more efficient on a tank with a medium-heavy bioload of 75-100 gallons.
After weighing all the options, choose the one that will work best for your tank. All tanks are different. You can't go wrong with any of the above-mentioned skimmers. They are all proven to great skimmers!
You May Also Like: