Are you on the fence about purchasing either the Vortech MP 40 or Maxspect XF 350 and not sure which one is best suited for your tank?
In this article, I will compare 2 of the most trusted and reliable aquarium wavemakers on the market. 
Both the Vortech MP40 Quiet Drive and the Maxspect Gyre XF 350 have been used by hobbyists for a few years now and honestly, there haven't been too many complaints.
I have used both of these wavemakers many times on different sized tanks so I know the pros and cons of both. 
Let's look at these wavemakers in detail and compare them to each other so you can decide if either one of them is for you. 
Vortech MP40 QD
The MP40 quiet drive is an upgrade to the older model of the MP40 W and WES models. In 2005, Ecotech introduced the first model of the Vortech pumps. They became popular very fast and soon enough everyone wanted to try these new pumps.
The Vortech pumps are designed to provide flow patterns in your tank that simulate the ocean current. They consist of 2 main parts called the wet side and dry side.
They are coupled together by a strong magnet. One of the great things about this wavemaker is there are no cords hanging in your tank. It has a very modern-looking design and doesn't take up much space inside the tank.
The pump comes with a driver that simulates different flow patterns. It can also power and synchronize multiple pumps wirelessly.
The different flow patterns include:
Lagoon Mode

Reef Crest Mode

Gyre Mode

Short Pulse Mode

Tidal Swell Mode

Nutrient Transport Mode

Feed Mode

Night Mode
There are some noticeable differences between the new MP40QD and the earlier models. All are big improvements.
Mobius App control

New and improved driver

Improved dry side motor assembly

Improved wet side impeller housing

Redesigned power supply

90% noise reduction

40% increase in flow rate (4500 GPH vs 3200 GPH)
Check out this Vortech pump flow calculator to determine how many pumps you will need on your tank.
Maxspect Gyre XF 350
Maxspect launched its first version of the Gyre in 2014. The first model XF150 included a single pump per controller that generated various flow patterns.
Over the next few years, the Gyre changed design and performance which has greatly improved the pump into a game-changer.   
The newest model is the Maxspect Gyre XF 350 which was launched in 2018.
Some noticeable differences between the first generation Gyre, some models in between, and the latest model include:
Newly designed suspension mount to reduce vibration

Improved rotor system and cage guards

new controller capable of running two pumps

Syna-G app for wireless control

Sine Wave motor technology for silent operation

New flow directors for pinpoint flow accuracy

300 series motor was totally redesigned for easy maintenance and cleaning

First-generation XF150 Flow rate 2300 GPH. New XF 350 Flow rate 5283 GPH
Many of the improvements that Maxpect incorporated into the Gyre are on the inside parts so the different models are not overly noticeable when you look at them. 
The different modes available to use on the Gyre XF 350 are:
Constant Speed Mode

Pulsing Mode

Gradual Pulsing Mode

Random Mode

Alternating Gyre Mode
If you have been a fan of the Maxspect Gyre from day 1 like me, you will love the newest model. There have been some amazing improvements over the past few years and these wavemakers just keep getting better.
So now that we have some information about both the Vortech MP40 QD and the Maxspect Gyre XF 350, let's compare them.
As you can see by looking at those numbers, these wavemakers are very similar. The biggest difference being the larger size of the Gyre.
Cost, glass thickness, flow rate, and power usage are all somewhat similar. 
But that's not all to consider when comparing these 2 pumps.
Power use/cost of operating
Using this aquarium electricity cost calculator, you can see the average cost of running both of these pumps. This assumes an average power cost of 0.12 cents/kWh.
Vortech MP40 QD – Using max 38-watt power use
Maxspect Gyre XF 350 – Using max 54-watt power use
So the Vortech MP40 QD will use less power and save you about $15 per year in power costs.
Controllability
Both the MP40 QD and the XF 350 are fully controllable. The new XF 350 controller is compatible with the Maxspect Connect ICV6 control module so you can wirelessly control your pumps using the free Syna-G app from Maxspect. Any combination of pumps can be connected and controlled. 
The new MP40 QD is Mobius ready and can be controlled via any smart device using the Mobius app. Mobius is the new command center for Ecotech products. The great thing about it is you don't even need the internet to control all your Ecotech devices! This is a huge win for the MP40 QD pump.
The MP40 Quiet drive wins controllability.
Mobius APP Control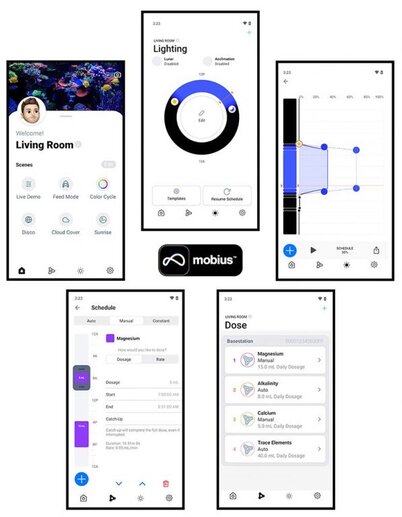 Sound
As far as noise is concerned, they are both equal in my books. I don't notice a difference in the amount of sound produced by these pumps. They are both silent and can only be heard when you get up very close and put your ear to them. Tests have shown the decibels to be 52 for the MP40 QD at full power and 43 decibels for the Gyre. Both readings were taken right next to the pump. According to the meter, the Gyre is quieter but my ears can't tell the difference. 
I call it a tie with sound.
Tank size
The MP40 QD is rated for tank sizes between 50-500 gallons. That's a huge spread. The Gyre XF 350 is rated for tanks between 80-800 gallons. That's an even larger spread.
It can be difficult to choose the proper tank size for these pumps. So I did an experiment.
I placed both of these pumps on my 150-gallon aquarium. Both worked great and had plenty of flow for this sized tank.
I then placed both pumps on a 240-gallon tank. I found the MP40 QD to be underpowered for this sized tank and to have suitable water flow, I needed 2 of them.
The Gyre XF 350 provided plenty of water movement and only 1 pump was needed to provide great flow.
So depending on the desired result you are looking for, both pumps will work on larger tanks. 
But I give the advantage to the Gyre for tank size.
Maintenance
Both of these wavemakers are durable and built to last. It's important that you perform regular maintenance on them to ensure they are working at their optimum. Keeping them clean is necessary to help them run smoothly and more efficiently.
Both of these pumps are easy to clean. The impellers can be removed within a few seconds and it will only take minutes to clean them and have them put back together.
The Gyre does have 1 advantage in this area. They incorporate clip on flow directors which can actually help prevent unwanted algae growth on the pumps.
This can reduce the amount of cleaning required and increase the time interval between cleanings.
Due to this feature, I give the maintenance advantage to the Gyre XF 350.   
Parts and Customer service
Both wavemakers have parts available from many online retailers. You shouldn't have a problem finding replacement parts if you need them. 
Another area where I give the advantage to the Ecotech brand is customer service. They have a great reputation and their service department is knowledgeable, friendly, and very helpful.
They stand by their products and want all customers to be happy. 
Maxspect also has great customer service but I give the edge to Vortech.
Summary
Overall I don't think you can go wrong with either of these wavemakers. They both have many great features, they are reliable, and are trusted by thousands of hobbyists.  
I know people that are die-hard Vortech users and will never switch. I also know many Gyre fans that love the new XF 350 and swear by them.
So really it's up to you to decide what will work best for your tank.
Take everything into consideration before making a decision but honestly, you can't go wrong as these pumps are 2 of the best on the market today.