If you currently have a Red Sea Reefer 170 (34 gallons) aquarium kit, you will be excited to hear about the many upgrades available to make these tanks better than ever.
If you are new to owning the Red Sea Reefer tanks, they are an all-in-one rimless glass aquarium kit. They are very modern, stylish, and without a doubt one of the best systems on the market today.
One of the great features about the Red Sea Reefer systems is that they are upgradeable in many ways if you are looking to add or replace certain equipment.
In this article, I will show you some of the best upgrades available for the Red Sea Reefer 170.
7 Best Red Sea Reefer 170 Upgrades
When you buy the Red Sea Reefer 170, it will include the following items:
Tank
Cabinet
Sump with filter socks
Plumbing
Water management system
ATO
Here are my top picks for upgrades:
#1. Red Sea Reef LED 90
Since the Red Sea aquariums do not include lighting with the kit, you will most likely want to add lighting or upgrade to better lighting.
Red Sea recommends the LED 90 as it is a perfect match for the Reefer 170. You will only need 1 light on this tank, and you will need the mounting arm as well.
Corals will do their best when placed in PAR ranges of 90 – 550. The Red Sea Reef 90 LED PAR readings at the water surface when mounted 8 inches above the surface are suited for this range, being approximately 500 at the water surface to 150 at a depth of 19 inches beneath the surface.
A great feature of this light is the Reef Beat App, which gives you full control of light settings and programming features.
#2. Protein skimmer
Although a protein skimmer is not necessary, they are one of the best investments you can make for a saltwater tank. The Red Sea Reefer 170 has a sump skimmer chamber dimension of 11.8″ x 9.8″ so you need to ensure the skimmer you choose will fit properly.
The best option is the Bubble Magus NAC 3.5 in sump protein skimmer. There are other choices available but the NAC 3.5 is a reliable and great quality skimmer at a great price.
It is rated for tank sizes up to 80 gallons, which is suitable for the Reefer 170.
#3. Ecotech Vectra S2 return pump
The Red Sea Reefer aquarium kits do not include a return pump, so you will need to purchase one separately. Red Sea recommends a pump that produces 530 GPH. The Vectra S2 will provide that and more.
It has a maximum flow rate of 1400 GPH with a maximum head pressure of 11.5 ft. If you are pumping water from your sump return section to your display with a height of 5 feet, you will be getting a flow rate of around 780 GPH which is more than suitable. The Vectra is fully controllable, so you can adjust the flow to achieve the recommended flow rate of 530 GPH or more depending on your tank's needs.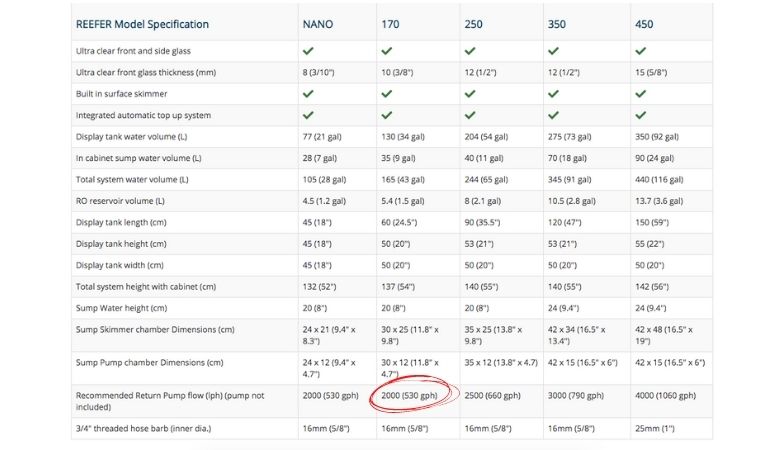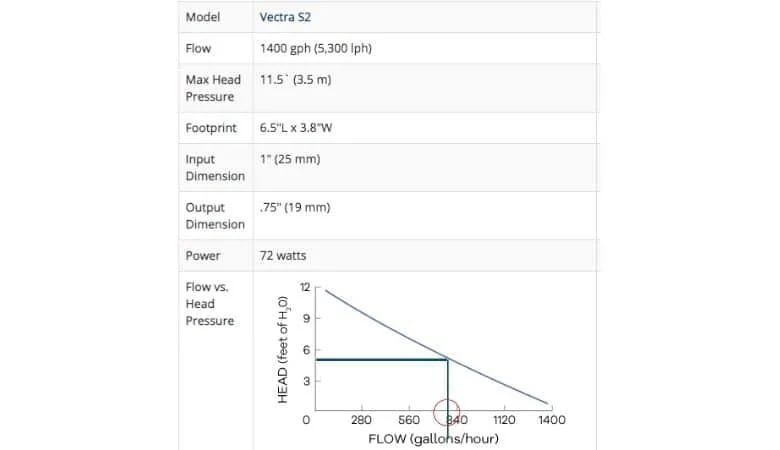 The Reefer 170 has a sump pump chamber dimension of 11.8″ x 4.7″ so the Vectra S2 is a perfect fit.
#4. Controller board – Cable management
If you want to keep your Red Sea Reefer 170 looking neat and tidy, consider adding a controller board.
Instead of having cables and controllers hanging down or bundled on the floor, a cable board is the perfect cable management system.
They are also a great way to easily monitor equipment and see which outlet is being used by a certain piece of equipment.
There are different types of controller boards available, including a standard and deluxe model which will fit nicely in the cabinet of the Reefer 170.
Controller boards are affordable and one of the best upgrades you can buy.
#5. ADJ power bar
One of my favorite purchases is the ADJ power bar. This can be added to any tank and will allow you to plug up to 8 pieces of equipment into one power bar. Each outlet is powered by an illuminated rocker switch that is easy to see and use. No more extension cords needed.
You can incorporate this power bar into one of the controller boards mentioned above. The ADJ power bar has been working for me for years without issues.
#6. Inkbird Heater controller
In my opinion, a heater controller is a required piece of equipment and I wish I had one a few years ago when a heater stuck in the on position and wiped out my reef tank.
Read about my heater malfunction here.
I recommend that everyone buy one of these heater controllers as they are very affordable and can save your tank from disaster.
The Inkbird heater controller is easy to hook up and monitor. It will prevent your heater from malfunctioning, which can kill your fish and corals.
#7. Tunze Osmolator Nano ATO
The Red Sea Reefer 170 does include an auto top off system. It is a float valve system and includes a 2.5-gallon reservoir. If you are looking to upgrade to a better and more reliable ATO, the Tunze Osmolator Nano ATO is a great choice.
The Tunze Nano ATO is suitable for tanks up to 55 gallons and includes everything to operate right out of the box. It also includes a safety system that will turn the pump off after 5 minutes of filling if the level has not been reached.
Summary
There are many other upgrades available for the Red Sea Reefer 170, but this list provides you with some of the most common upgrades.
All the Reefer aquarium kits are amazing even without the upgrades, but they are even better with them.
You don't have to upgrade everything at the same time. You can add one at a time if you like.
Whichever upgrades you choose, you will enjoy the Red Sea Reefer even more.