When it comes to all in one complete aquarium kits, Red Sea is one of the best in the business.
Red Sea is known for being a leading innovator and manufacturer of aquarium products.
If you are looking for an advanced plug and play aquarium system, the Red Sea Reefer is one of the best options available.
The Red Sea Reefer is a very popular choice and are perfect for beginners or advanced hobbyists.
With many different sizes available, I'm sure you will find one that is suitable for your home. 
But there is a concern with these awesome aquarium sets. 
The price of the Red Sea aquariums is quite a bit higher than you would expect to pay for most fish tanks. 
But these tanks are far from being normal. 
So are the Red Sea aquariums worth the cost? 
In my opinion, yes the Red Sea reefer aquariums are worth it. There are many aquarium products that are definitely not worth it based on many reasons, but these aquariums have huge benefits and offer the long-lasting quality that not many other manufacturers provide.
I will explain my reasons why I believe these tanks are worth the money below. I'm sure a few people will disagree with me and that is ok. 
Let's look at all the different features and benefits of these tanks and you can decide if they are worth it for you. 
Red Sea Reefer aquariums 
For this article, I will just compare the different Red Sea Reefer aquariums. The following does not include the Red Sea Max aquariums. 
The Reefer is available in many different sizes. The following numbers are total system water volume.
Nano – 28 gallons

Reefer 170 – 43 gallons

Reefer 250 – 65 gallons

Reefer 350 – 91 gallons

Reefer 450 – 116 gallons
Reefer XL models:
Reefer 200 XL – 53 gallons

Reefer 300 XL – 80 gallons

Reefer 425 XL – 112 gallons

Reefer 525 XL – 139 gallons
Reefer XXL models:
Reefer 625 XXL – 165 gallons

Reefer 750 XXL – 200 gallons
As you can see, there are many size options available.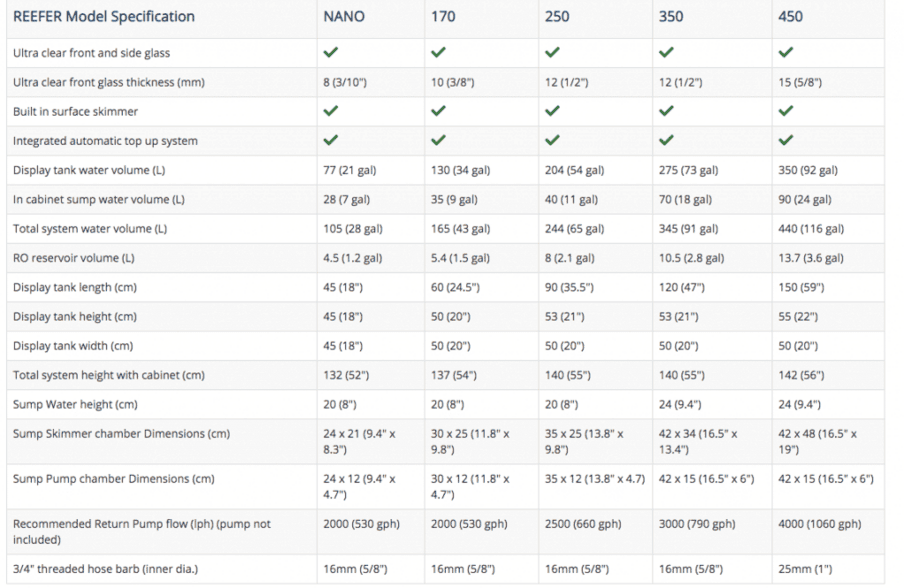 One of my favorite features of the Red Sea aquariums is the glass itself. They offer a rimless high quality and ultra-clear glass aquarium. The glass is thick and includes beveled edges. There is no plastic trim on these tanks. The rimless design is very modern looking and the glass itself stays perfectly clear. 
The cabinet is designed to match the aquarium. They are a perfect fit. When you buy the Red Sea Reefer, you are buying the tank, cabinet, and other parts. 
The aquarium stand will need to be put together. They do not arrive assembled. These stands are similar regardless of the size and are available in white or black. They are not difficult to put together providing you follow the instructions properly. 
The cabinet itself is built with waterproof epoxy painted doors which is a great feature that other basic stands do not have. This laminated marine spec stand contains enough space for the included sump system and in some cases, extra space is provided for a chiller. 
The aquarium sits on a recessed base that is designed to raise or float it above the cabinet. It follows the contours of the glass and looks really sharp. 
Another great feature of the Red Sea Reefer is the water management system.
This design allows for superior water quality by directing the water from all sides of the tank evenly down to the sump through the regulated silent flow downpipe.
The overflow is designed to take up very little space in your display tank. It holds all the plumbing which is out of sight. There are included removable combs on the overflow which will perform the surface skimming. 
The overflow system is also designed with an emergency overflow pipe which will provide unrestricted water flow to the sump in the event the main drain was to become blocked. 
The sump system is included and is sized accordingly for the aquarium being used. It includes 200-micron filter socks, and the sump is designed to maintain a constant water level which is great for protein skimmers to operate effectively. 
The sump system also includes a bubble trap prior to the return section. The return section includes an integrated automatic top off freshwater system to keep the water level in the return chamber constant. The top off container is included.
The included plumbing for all Red Sea Reefer aquariums comes as a complete self-assembly kit. There is no gluing or cutting required. It is very easy to assemble. 
Features and main points:
Rimless and ultra-clear beveled glass

Marine spec cabinet

Professional grade sump system

Silent regulated down-flow system with emergency drain

Integrated auto top-off system

Assembly ready plumbing
As you can see from the above info, the Red Sea Reefer is a high-end system that is very well designed with the user in mind. Not many other systems can compare. Yes, you will pay extra to have such an advanced and reliable system but in the world of aquarium keeping, trust me you want that peace of mind of knowing you have a reliable and quality build system that will last over time.
Check out: Best ways to organize your aquarium equipment
Accessories and upgrades available for the Red Sea Reefer tanks
There are plenty of add ons and upgrades available for the Red Sea Reefer kits. They do not include a return pump, so depending on the system that you have, buy an appropriately sized return pump. For the Red Sea tanks, I recommend the Sicce Silent return pumps. 
The Red Sea Deluxe package is also available with includes Red Sea LED lighting designed specifically for these aquariums.
Other items available include:
Protein skimmer

UV sterilizer

Heater

Wavemakers

Power bar – Check out the ADJ PC 100 A

Control board

Lighting
There is a full line of replacement parts available online and it is very easy to replace something if you need to. 
Summary
So this is where you need to make a decision. Is the Red Sea Reefer worth the cost to you?
Well, I guess until you try it, it's difficult to make such a decision. But I can tell you from my experience with these tanks, that although they may cost more than some other systems, they are worth every penny.
To have the high-end quality, modern design, fail-safes built-in, and the ability to upgrade the tank makes it a very easy decision for me.
Also, the convenience of having everything included with ready to install plumbing is a huge bonus in my books.