How To Set Up An Aquarium UV Sterilizer – 11 Steps To Success
All saltwater hobbyists can agree that keeping your saltwater tank clean and disease free is a goal worth striving for. It is important for the health of your livestock to have the cleanest water possible. There are many ways to keep your water in tip-top shape, and using a UV sterilizer is a great piece of equipment that will definitely help. This article will show you how to set up an aquarium UV sterilizer – 11 steps to success.
What is a UV sterilizer?
A UV sterilizer is used to kill any undesirable free-floating organisms that pass through it. For example, bacteria, algae spores, and parasites are things that can be harmful to your tank. Cloudy water and bacterial blooms are a result if they are left in the tank.

Do I need a UV sterilizer?
No, it is not a required piece of equipment. You don't need one but they are certainly helpful and do a great job keeping your aquarium water healthy. The great thing about UV sterilizers, is they don't harm fish or corals. They are also easy to maintain and not overly expensive.
What do I need to set up an aquarium UV sterilizer?
Basically all you need is the UV sterilizer unit, and all the attachments should come with it. They are plug and play ready to use out of the box. Decide if you want to use a hang on tank style or inline style attached to your sump or filter.
Choosing the right UV sterilizer is important as you will need the proper size and power to match your tank size.
Liveaquaria.com says:
"Adding a UV sterilizer to your aquarium is like insurance for your home or apartment. Proper use is reliant upon proper aquarium care, such as regular water changes and filter maintenance. UV only targets free-floating microorganisms, not nuisances attached to your fish, substrate, plants, decorations, or corals."
Let's look at the Coralife Turbo Twist UV sterilizer as an example. It is one of the most commonly used units. They are reliable, long-lasting and affordable.
Step 1: Unbox and make sure all the parts are there
This is important because if anything is missing, you can address it right away. Also, check that there are no damages to the unit before installing it.
Step 2: Remove the 1 screw on the outside of the unit
Step 3: Twist the plastic housing to open and remove the UV bulb glass casing
The unit will come apart into 2 pieces. Be careful when doing this as you will be handling the glass casing for the UV bulb.
Step 4: Twist off the top cap to expose the bulb connector
This is the top piece with the power cord attached.
Step 5: Remove UV bulb from cardboard and install into the connector
When handling the bulb, avoid touching the bulb with your fingers. Use a cloth to handle the bulb and insert it into the connector.
Step 6: Insert the top cap with the UV bulb into the glass housing
Screw on the cap carefully to a hand tight fit. Go slowly as you don't want to hit the glass housing with the bulb.
Step 7: Insert Glass housing with bulb into the outer case
Twist so that the input and output nozzles are where you need them to be in order to fit your tank. You will hear a click when it's locked in place.

Step 8: Attach the screw you removed in step 2
Step 9: Attach the suction cups to mounting brackets and place both brackets on UV sterilizer unit
Both mounting brackets will click into place on both sides of the unit. It may be easier to slide them on from the top instead of forcing them to click. If you are installing the unit on the trim of your tank, remove one of the suction cups then use the hang on tank bracket. The other suction cup will hold the unit in place.
Step 10: Attach the plastic tubing onto the barb fittings
The Coralife Turbo Twist comes with 2 different sized barb fittings, so make sure you are using the correct size hose. The commonly used size is 16/22mm tubing.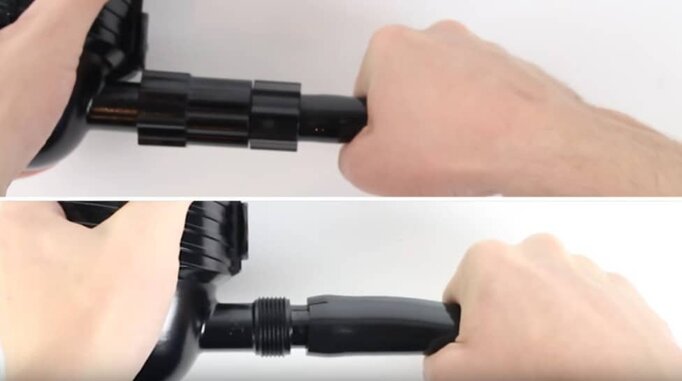 Step 11: Use the cap screw to tighten the tubing
Make sure to use the O rings included to ensure no leaks.
Learn more about the Coralife Turbo Twist UV sterilizer and check today's price on Marine Depot.